Why is my hair turning grey?
Posted on April 28, 2012 by Dr. Chris Oh in Hair

It is a common belief that stress somehow causes our hair to turn grey. However there is no scientific evidence linking stress to hair color changes. What we do know is that as we age, the activity of hair pigment cells, known as m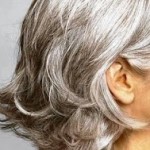 elanocytes, gradually declines until they stop making melanin (hair and skin pigment) altogether. Each of us has a genetically determined time when this process starts. Recently, researchers in Germany and the U.K. have discovered the exact mechanism by which melanocytes lose their activity, and it looks like the culprit is a free radical known as hydrogen peroxide. Hydrogen peroxide is a natural byproduct of the body's metabolism. It is readily broken down into water and oxygen by an enzyme called catalase. In aging hair cells, the amount of catalase is significant lower, thus allowing hydrogen peroxide to accumulate, which then attack important enzymes. One of the enzymes it attacks is tyrosinase, a key enzyme that starts the production of melanin in the hair cells. As tyrosinase levels decrease, less pigment is produced causing our hair to turn grey.
So how do we prevent early greying of hair? Even though we've figured out the mechanism, there are no good treatment options at the moment. However I do have some general recommendations:
Because free radicals are the culprit, ingesting plenty of anti-oxidants (mainly vegetables) will definitely help your hair and skin look younger.
Smoking has been linked to premature grey hair.
Metabolic conditions such as thyroid disorders and vitamin B12 deficiencies have also been linked to grey hair. Anyone who has skin and hair changes should have a comprehensive blood test to rule out these conditions.