What really keeps a doctor away?
Posted on March 23, 2012 by Dr. Chris Oh in Aging, Preventive care, Weight Loss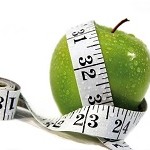 When I do annual physicals for police officers and firemen I see a clear trend. New recruits in their 20s and 30s will usually have healthy weight levels, but as they age their weight goes up. It may not go up by a lot but five pounds every year will add up to 50 pounds in 10 years. In addition to not smoking, exercising, and eating healthy, I advise patients with a normal BMI (body mass index) to maintain their ideal weight as they age. This "boring" advice is probably the most important medical advice a doctor can give you. Patients should be aware that as they gain more weight, their risk of diabetes, high blood pressure and high cholesterol increases proportionally. This in turn increases risk of cardiovascular disease as well as multiple types of cancers. Maintaining a good weight may not always increase your life expectancy but will definitely increase quality of life as you age. I sometimes ask patients in their 40s who are healthy but overweight to picture two scenarios for themselves as they enter their retirement age: one where they remain overweight with multiple medical problems and are on several medications, unable to get around, and enjoy life with their grandchildren, and the other where they are active, full of life, and can continue to do everything they had enjoyed. So what really keeps a doctor away? An apple is good but not the correct answer. It is maintaining your ideal body weight. Have a good weekend.